Moderator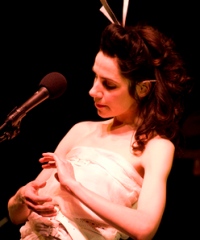 Joined: Sun Jul 19, 2009 5:22 pm
Posts: 2385
Location: ~ +38.4, -122.7
https://www.thetimes.co.uk/article/edinburgh-pop-review-pjharvey-at-edinburgh-playhouse-dpkgg6pmg
I signed up to read the article (so you don't have to) and pasted it below (5 star review):

"This is how it began: a darkened stage, a clank of chains, a martial beat as the band filed on; nine of them, suited and booted and, in their midst, a star. Polly Jean Harvey, cloaked and crowned in black feathers, led her band into Chain Of Keys, opening an 18-song set, summoning from first to last an exciting sense of controlled power.

Harvey's two nights in Edinburgh were part of the International Festival. Yet although the performance was theatrical, it would not be quite true to call it choreographed. Drilled is a better word. More than half the set was from her two most recent albums, deeply researched anti-war records, and she has staged these songs according to an aesthetic that suggests military parades and funeral processions.

A great artist, she draws the gaze. Every careful pose — an outstretched palm, an upturned face — built drama. Her veteran sidemen have considerable chops and created an impressive, at times oppressive noise based on brass, chant and pounding percussion. Yet just as important was what they didn't play. It's rare to hear a rock band, if that is what they are, use silence and stillness to such dramatic effect.

Out of this solemnity, a crowd-pleasing run of songs came bunched like a fist: 50ft Queenie, all spit and squall; the rumble and grind of Down by the Water; To Bring You My Love, its coda played on sorrowing sax and bass clarinet. Quieter, but no less affecting was the pairing of When Under Ether and White Chalk. Harvey performed the first, which seems to describe the termination of a pregnancy, alone in the spotlight, her only movement the casting of her eyes upwards on the song's final line — "human kindness" — in the instant before the stage cut to black. White Chalk, in which she sang of walking Dorset cliffs, "our unborn child" inside her, had an eerie purity.

This is how it ended: a last song about desire, and then the band lined up, accepting the standing ovation as due tribute. Uncompromising, unparalleled, unforgettable."